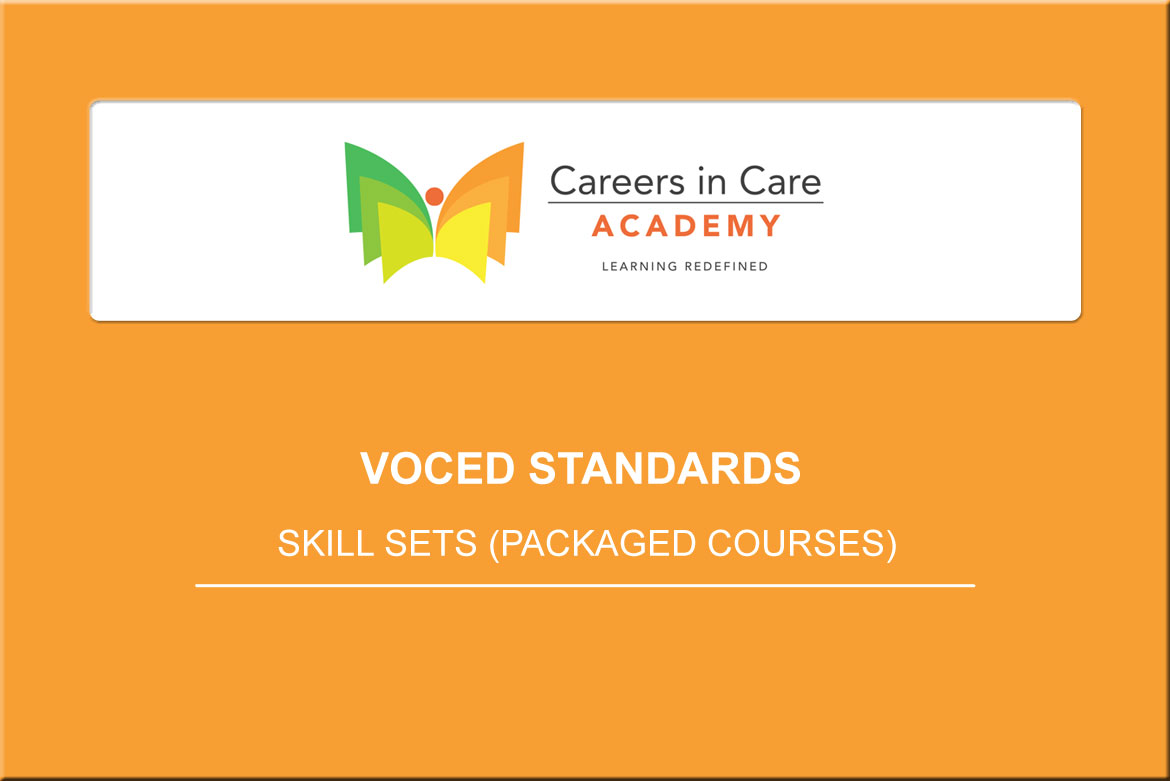 About VOCED Standards (Skill Sets)
VOCED (Vocational Education & Training) Standards, a set of packaged courses, have been specially designed to assess VET workforce competencies in the following areas:
ESOS National Code 2018

The National Code is a legislative instrument made under the Education Services for Overseas Students Act 2000 and sets nationally consistent standards to support providers to deliver quality education and training to overseas students.
When you purchase this Skill Set, you will have access to the 'Learner Guides' for the above-mentioned standards along with Industry Recommended and Validated Competency Assessment Quizzes to assess your current competencies.
Why are VOCED Standards (Skill Sets) highly recommended?
If you are currently working in the Vocational Education and Training sector or wish to work in this sector, you must know Standards for Registered Training Organisations 2015 to ensure you work ethically considering the needs of both the students and industry.
If you work with or intend to work with an RTO that is a provider of education and training to Overseas students, you are expected to know the standard requirements listed under ESOS National Code 2018.
​The National Code of Practice for Providers of Education and Training to Overseas Students 2018 (National Code 2018) supports the National Strategy for International Education 2025 to advance Australia as a global leader in education, training and research.
Reference:
Internationaleducation.gov.au
(https://internationaleducation.gov.au/Regulatory-Information/Pages/National-Code-2018-Factsheets-.aspx)
About the Standards for Registered Training Organisations 2015
(https://www.asqa.gov.au/standards/about-standards-registered-training-organisations-2015)
Who is it for?
This course is highly recommended for VET workforce including but not limited to:
VET Trainers and Assessors, RTO Managers, Compliance Managers, Training Managers, Marketing Officers/Managers, Admissions Officer/Manager, Administration Officer/Manager.
Course Duration
Typically, a learner should take anywhere between 8-10 hours to complete this course online; however, the duration may vary based on prior skills and knowledge. You may also consider face-to-face training program. Contact us for further information.
Certification
You must successfully complete all the 3 courses to receive 'Certificate of Completion' which will be automatically emailed to your registered email ID.
You can also access and print your certificates from your CIC Academy account 'dashboard'.
Get Started
Click on 'take this course' tab to add this Skill Set in your Cart and checkout.
Commence the course through your dashboard and go through the Learner Guide of SRTO2015 (part 1).
Attempt the competency assessments for SRTO2015 Part 1 and Part 2 once you have gone through the Learner Guide for SRTO2015.
Repeat the process (2 & 3) for ESOS National Code 2018.
Upon successful completion of all the three courses (SRTO2015 Part 1, SRTO2015 Part 2 & ESOS National Code 2018) you will receive your Certificates of Completion. Your Certificates will be saved in your CIC Academy dashboard ready for download.
Complete a short 'Feedback Survey form' once you have completed your course to let us know about your learning experience.
To know more or begin with the packaged courses click on the links below :-
All the best…